The sheer volume of recorded footage our sensational Flirt4Free girls put out on a daily basis is hard to imagine. But as anyone who has spent time lost in the stacks in our vast VOD library will probably attest, there is tremendous, tantalizing depth. So much so, that it can often be daunting to find what you really need when you want to see it. This summer, we've been giving our video section a makeover as we attempt to streamline your experience, tailor it to your tastes, and make sure the hottest new content is always at your fingertips.
In the previous version, most of your options for searching, filtering, or browsing were available in a very overcrowded sidebar (more on these changes below). We have reduced the size of that sidebar and introduced cleaner top-bar tabs.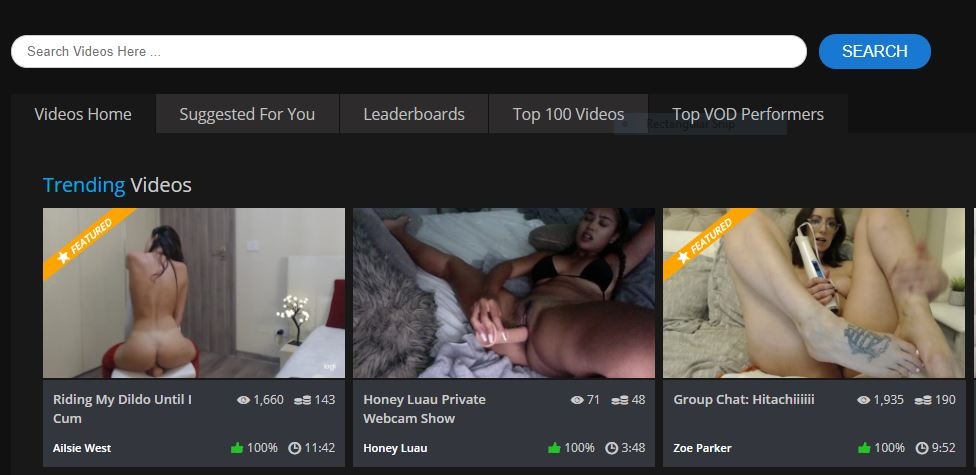 The video home page (above) has a been updated to sort VODs in ways that highlight clips our users most want to see. Scroll down this page to see which videos are trending, what your fellow members are watching at that very moment, the absolute newest VODs, and the latest clips our Flirts have uploaded themselves.

Shown above is the "Suggested For You" tab, where we recommend VOD collections from your favorited models and similar models who may also entice you.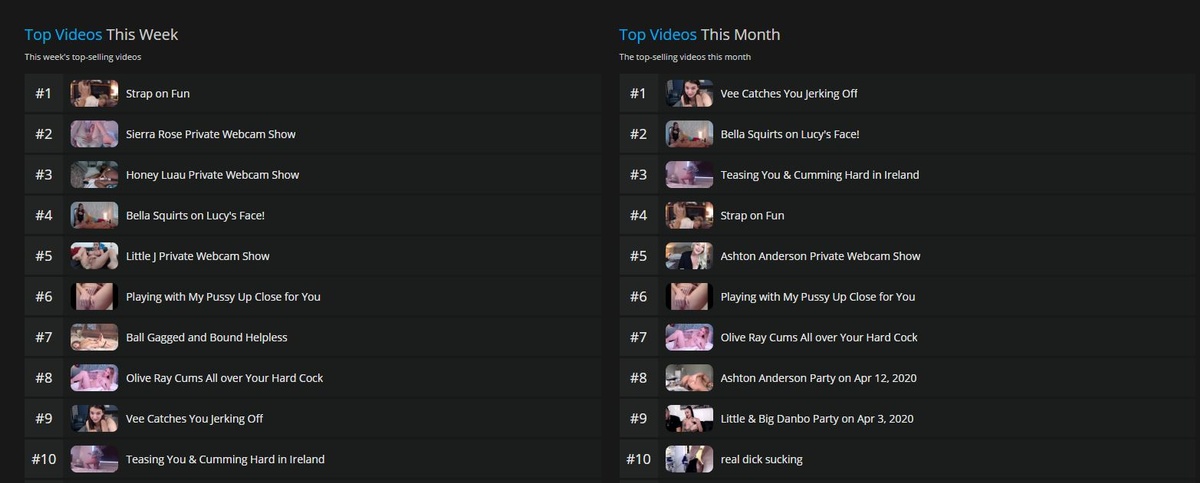 We've reorganized the "Leaderboard" tab to allow you to see full titles, and included a thumbnail of the preview for each qualifier.
Top 100 Videos & Top VOD Performers:
Our "Top 100" has been curated to include only titles from the last 18 months to keep it fresh and recent, and to increase the odds of you watching a model you have the option to chat with live. Similarly, the new "Top VOD Performers" tab highlights models whose VODs have earned the most credits in the last 30 days

We've revamped the way all VOD thumbnails look, allowing more space for longer titles. You can also see the number of times other fans have enjoyed each clip, the cost in credits, the popularity, and the duration. In the case of our "Top 100" page (shown above) you will also readily see the current rank.
The Sidebar:
On to the sidebar! First, your main options are now located at the top, and we replaced the links with icons.
Finally, we've introduced a VOD deals page, which covers a number of ways to get more Flirt Bang for your Flirt Buck. First, the On Sale tab will let you know which clips are priced to move. The available discount will appear in a banner across the thumbnail.
Next, you can visit the Model Pass page. This is where models create collections of choice footage and group them into a single compilation. These can often come at a discount, and showcase a Flirt's best content or variations on a particular fetish a model enjoys exploring on cam.
Finally, you can view our curated selection of Show Pass VODs. This is a subscription service that gives you access to thousands of videos at a time. Show Pass eligible clips are updated monthly, so there's never a shortage of new material to lose yourself in. Read more about this feature in our Show Pass article.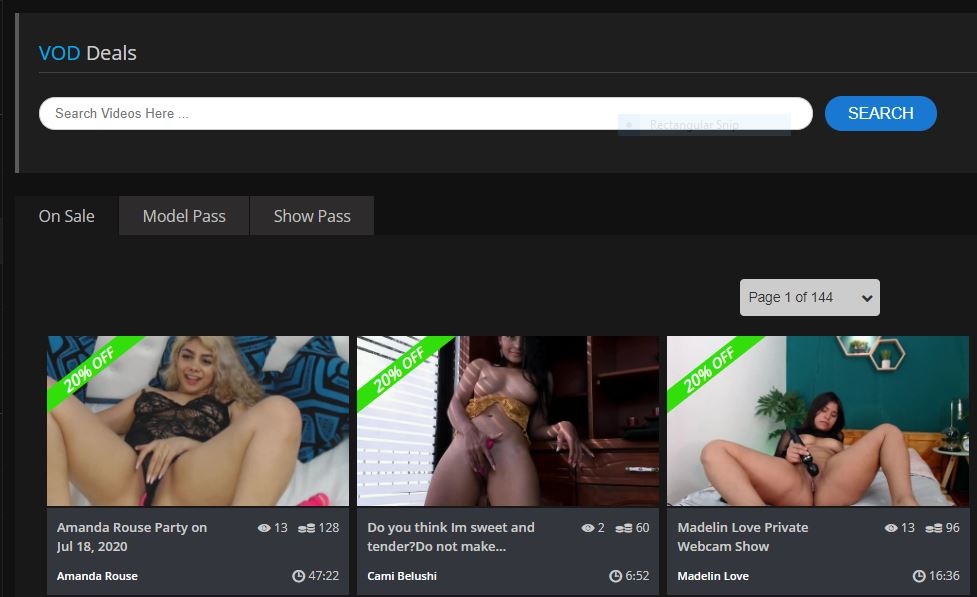 These changes represent phases 1 and 2 of our Video overhaul. We have more great changes on the immediate horizon. Check back here for more updates soon! Of course, we want to hear your feedback and ideas! Leave a comment below, or visit our forums and let us know how you feel about the Flirt4Free VOD experience.