The Big Bang Celebration returns for 2023, and the girls of Flirt set the site on fire. This year, we introduced sexy, suggestive new Banger tips, ousting the old Fireworks and giving the contest a facelift. The results were incendiary: Here are the camgirls who burned brightest:
No surprises here. The biggest banger of 2023 is undoubtedly Eva Sin, our resident queen of everything. The most dominant force in live sex cam entertainment sinned liberally in celebration of her sexual independence. She took down the coveted Banger grand prize with an explosive 4-day performance in which she nabbed 15,600 holiday tips! That's more than the 2nd, 3rd, and 4th place Big Bang winners combined! Whether you're looking to be toppled by a gorgeous woman with an electric personality, or you're looking for some secret fetish play, the beautiful Eva allows you the freedom to explore your fantasies in her chatroom. Be sure to catch her live as she gears up for our scary-hot Halloween celebration this fall.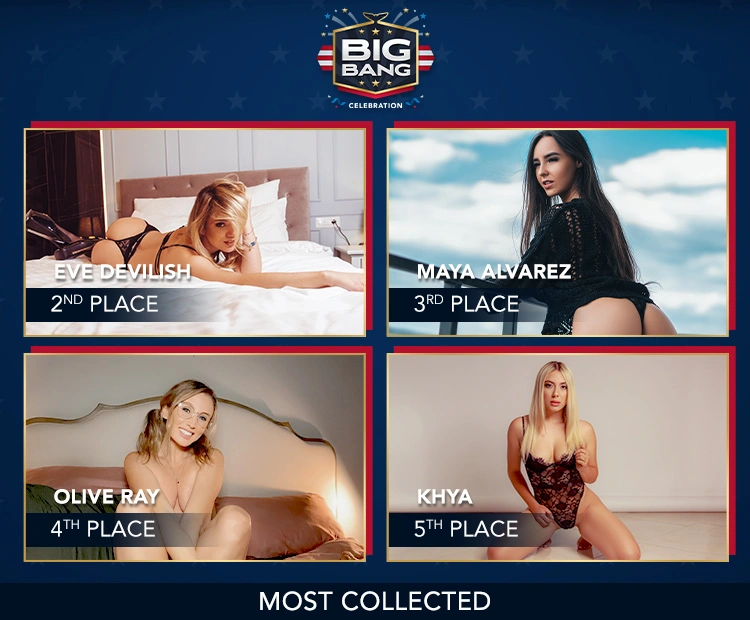 Fiery, passionate "all-in-one" woman Eve Devilish has been quite the discovery for Flirt fans. This beauty knows how to use her wicked side to help you pop off. With that dirty mind working overtime, she claimed 2nd place for most Bangers collected. Maya Alvarez set streams en fuego in early July with a 3rd place finish. This brunette beauty loves to roleplay. In what role does shine the most? Big Bang party-goers know the truth! Flirt favorite Olive Ray may be as American as apple pie, but I think she prefers cherry. This sweet southern belle and secret kinkster claimed 4th. Meanwhile, supple blonde bombshell Khya rounded out the tender back end of our top 5 Banger collectors.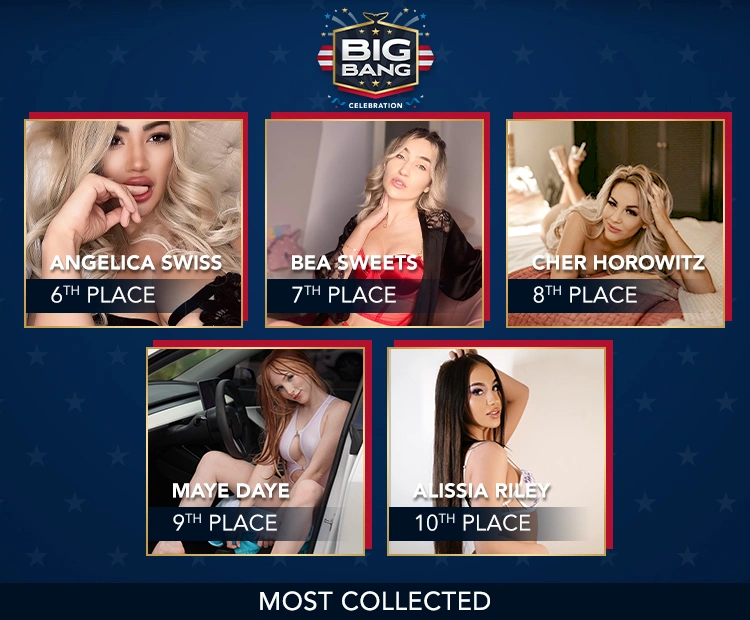 Glamorous party girl Angelica Swiss took 6th place, while porcelain-skinned sweetheart Bea Sweets claimed 7th. All-American queen bee Cher Horowitz finished in 8th place, while dreamgirl Maye Daye finished 9th. The stunning Alissia Riley closed out our top 10 total Banger collectors.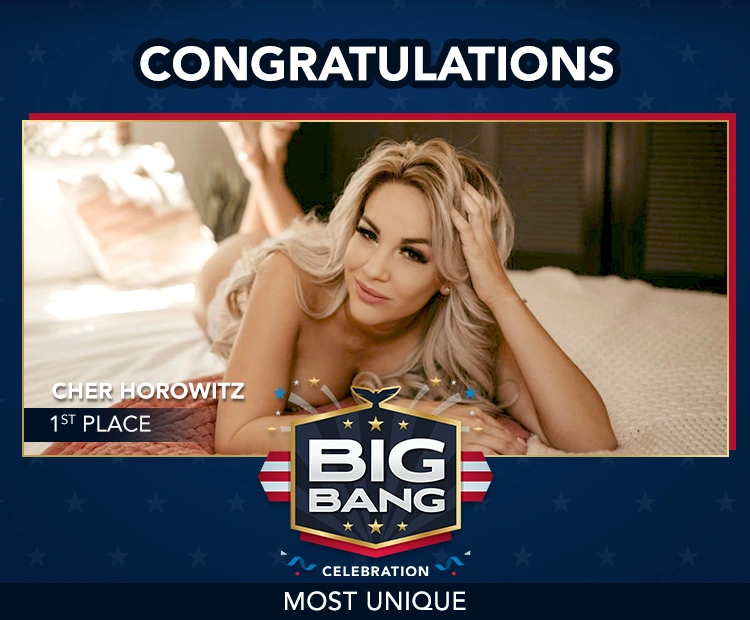 Fitting that our most engaging model of the Big Bang would All-American girly-girl Cher Horowitz. She's just the right mix of Wholesome, MILFy, and Glamorous -- comfortable in both lacey lingerie and tight booty shorts. Cher is a rising star on Flirt4Free, and this might be her true breakout performance. When it came to earning Bangers from a wide range of Flirt fans, she soared to the top of the charts. Want to know how she does it? Add Cher Horowitz to your favorites and chat her up the moment she signs on for her next sexy broadcast.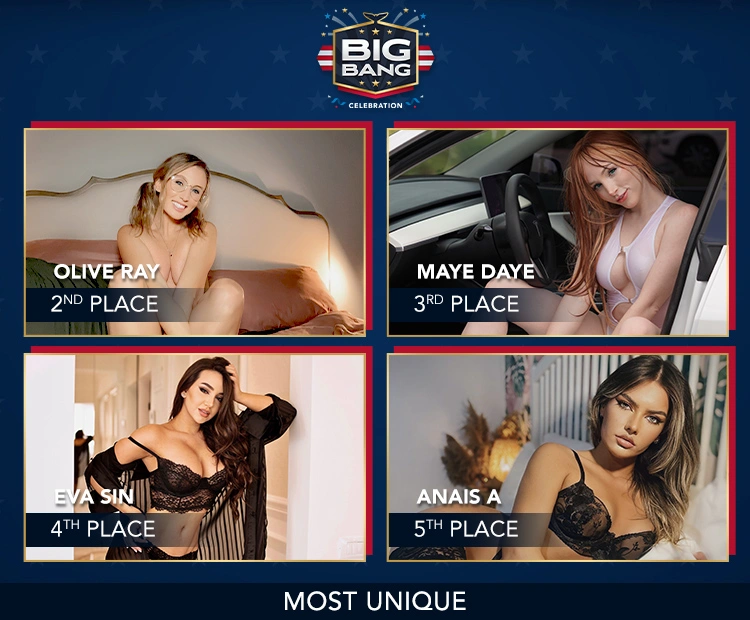 In 2nd was our lithe, sexy southern belle Olive Ray. O-Ray as been a Flirt4Free mainstay for years, winning hearts and minds with charm, laughter, and a filthy imagination that can appeal to a wide range of sexual seekers. Our members have also long been smitten with the incomparable, Maye Daye. Always at the top of the list for most unique model contests, her 3rd place showing for the Big Bang was no exception. The aforementioned Eva Sin continues to slay, claiming 4th in this leg of the contest, while Anias A showed fans she could level them with a glance, taking 5th.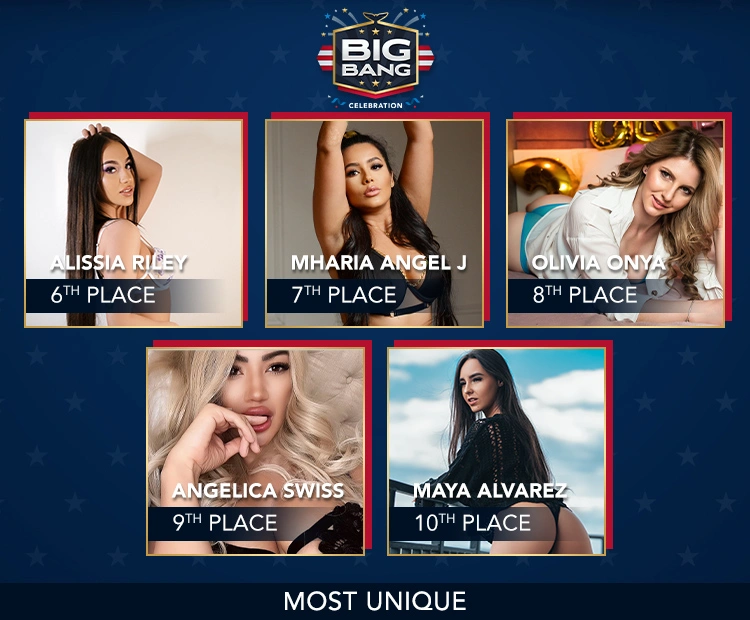 Alissia Riley is another 2-contest winner for the Big Bang, cashing in 6th place. She's followed by beloved Flirt great Mharia Angel J in 7th. The sizzling Olivia Onya finished in 8th place, while powerfully sexy performances from Angelica Swiss and Maya Alvarez earned them both additional prizes in the Most Unique Bangers Collected contest.
What's next for the girls of Flirt? July 31st marks the end of our Flirt Summit competition. Tune in for the next few weeks to see which glorious Flirt babes will make it to Cabos San Lucas, Mexico!