This year, the Flirt4Free Halloween Celebration featured some dark and sexy cosplay as our elite camgirls sought your sexy Pumpkin tips. For six sinister nights, these girls had us howling at the moon.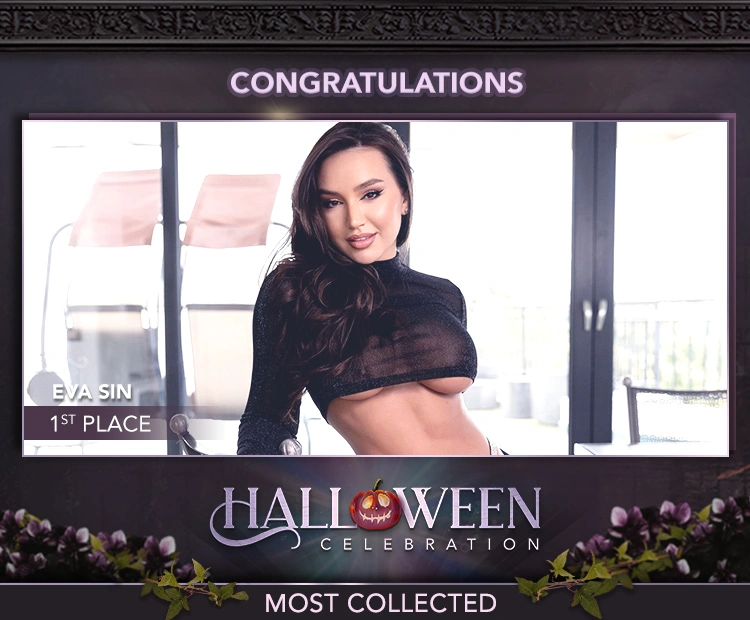 Forever celebrated cam model Eva Sin is no stranger to success. With a remarkable track record that includes multiple first-place wins and holding the title of the most collected during our Halloween celebration contest this year, Eva has solidified her status as a legendary figure on our platform. Her astounding historical successes are continuously followed by her numerous records displayed proudly on our Hall of Fame page. Eva Sin's reign as a leader in the "Flirt of the Year" race is nothing short of extraordinary, having held the coveted title for an impressive four consecutive years. Her sexy consistency and unparalleled allure have made her an integral part of Flirt4Free's history, and her dedication to delivering an exceptional experience to our users is truly remarkable. Is it any wonder that she frightens the pants off of the lucky men who spend time in her chatroom? Get to know the legend in her own words in this exclusive interview.
Eve Devilish an intensely passionate and multifaceted woman, she has captivated her Flirt fans, and Halloween cosplay let her showcase her provocative imagination in full swing. Eve secured the coveted second place as her shocking sensuality was is expertly wielded to ignite your desires. Ella Claire's mesmerizing presence has enchanted Flirt fans with just a single glance. Her smile possesses the power to thaw even the blackest of hearts locking in third place. Gigi Belle's eagerness to please and her knack for turning your desires into reality, achieved the admirable fourth place. Bea Sweets exudes an irresistible allure, captivating fans with her tantalizing presence-no wonder she claimed the fifth place, leaving a trail of satisfied trick-or-treaters in her wake.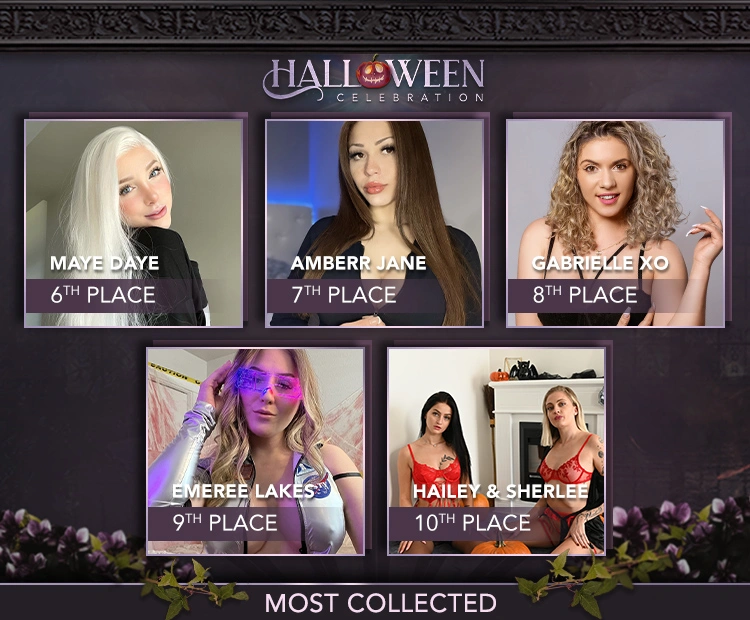 Sizzling, captivating, and big time fan favorite Maye Daye secured sixth place. Amberr Jane spooked her way to the seventh place. This bewitching beauty knows how to cast a spell. Gabrielle Xo cast her irresistible charm to secure the eighth place leaving fans wanting more. With each appearance, she weaves a spell that's simply hard to resist. Emeree Lakes addiction-inducing beauty and responsive nature makes her a true delight earning the eighth spot. Hailey & Sherlee sizzled their way into tenth place as this dynamic duo knows how to turn up the heat and leave a lasting, unforgettable impression.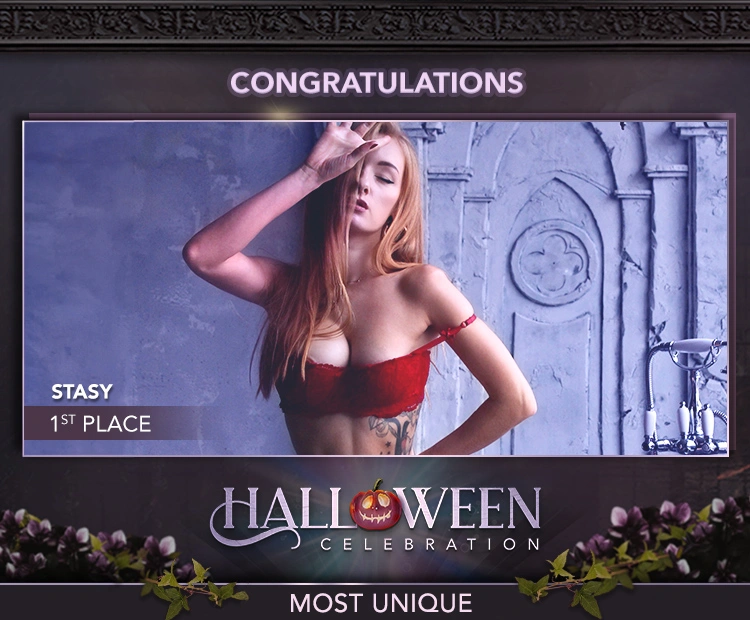 It's no coincidence that cam cutie Stasy placed first in our "Most Unique'' contest, as this is not her first time demonstrating her far-reaching influence. Her consistent wins are a clear indicator of how her appeal extends to more than just her beauty. Her personality, intelligence and bubbly personality creates the perfect woman. Referring to herself as "ecSTASY" - she has built up a fan base that simply is addicted, and cannot get enough. If you didn't get bewitched during our Halloween Celebration, be sure to add Stasy to your favorites and melt into her chatroom during our upcoming Winter holiday event, Tease the Season!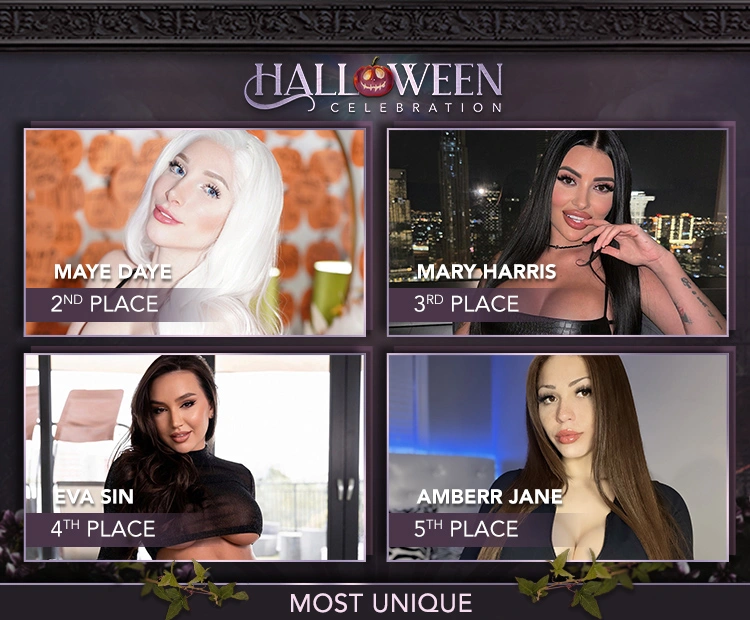 Blonde Sensation and beloved fan favorite Maye Day has secured well-deserved second place, proving that when it comes to costume and dressup fantasies, she has no equal. Sultry and unbelievably sexy brunette bombshell, Mary Harris took home third place Eva Sin, as mentioned earlier, continues to captivate captive sex cam audiences, nailing a prestigious fourth place finish while constantly leaving her admirers in awe. The beautifully sensual and seductive Amberr Jane placed fifth.
Mharia Angel J took sixth place as her uniqueness glows. Roxy Rogerz- this force fire came in seventh leaving a memorable mark on her audience. Robin Gallagher being of both confidence and seduction got her in eighth. Gigi Belle; good girl gone bad=is a favorite amongst our audience and left her mark in ninth place. The unforgettable duo Hailey & Sherlee rounded on the contest coming in tenth place.
As we draw the curtains on our most unique and highly celebrated Halloween Celebration contest, we're thrilled to unveil what's in store for the future. Brace yourselves, because next on our agenda, you'll witness our models shine even brighter at the Flirt Summit 2023 in the captivating setting of Cabo San Lucas. But that's not all! Following this exciting event, we invite you to stay tuned for our Tease the Season promo as we gear up for the winter holiday season with a festive twist. Join us on this incredible journey of connection, celebration, and anticipation, as we continue to redefine the way we engage and create memories together. Thank you for being a part of our spectacular Halloween celebration, and we can't wait to share the upcoming adventures with you!